| Overall Rating | 4.7/5.0 |
| --- | --- |
| Communication | |
| Matching System | |
| Mobile Usability | |
| Registration | |
| Support | |
| Terms And Conditions | |


Just Singles AU is a dating site that caters to the older generation. Focusing on people mainly between the ages of 50 and 70, it will help you find love, friendship and fun using an easy to manage interface. There are some great features and it promises you'll find people you fancy straight away—what more could you want?

Visit Just Senior Singles Website >>
---
Just Senior Singles Communication
| Overall Rating | |
| --- | --- |
| E-Mail | |
| Chat Functions | |
| Video Chat | |
Just Senior Singles AU does pretty well on the communication front. They have an email function, which is great for taking that first step in contacting a potential interest, and they also have a chat function, for when you really want to get into it with someone and get to know them before considering meeting the. Unfortunately, what they do not have is a video chat, which is a bit unfortunate, but overall, the features that provide for communication is pretty great.
---
Just Senior Singles Matching System
| Overall Rating | |
| --- | --- |
| Personality Test | |
| Profile Matching | |
| Profile Visitors | |
| Block Users | |
Just Senior Singles AU has a fantastic matching system and puts them high up on the list of great dating sites. One of the most important things when it comes to matching is a personality test, because you can then be matched with people who closely resemble you in more than just interests. However, it also uses your profile criteria, so it pulls from your hobbies and likes and dislikes in addition to the personality test. Even better, you can view who's watched your profile, which is awesome because it can give you an idea of the kind of people you're attracting. Finally, the user does have an option to block other users, which is a crucial feature to make the experience pleasant for everyone.
---
Just Senior Singles Search Features
| Overall Rating | |
| --- | --- |
| Picture Search | |
| Keyword Search | |
| Now-Online Search | |
| Search By Profile Criteria | |
| Show New Members | |
The site also does pretty well when it comes to search functions, but the only thing they're missing is a keyword search. This is unfortunately because sometimes that's really helpful in narrowing down options based on a certain criteria that you're looking for. Nonetheless, they do provide you with a photo search option, who is online now—which is great for when you want to chat and get to know someone, as well profile criteria and new members, just in case you missed anyone, further increasing your chances.
---
Just Senior Singles Mobile Use
| Overall Rating | |
| --- | --- |
| Mobile Usability | |
| App Usability | 0 |
| Android App | |
| iPhone App | |
Just Senior Singles is ok when it comes to mobile usability, but not stellar. Although the mobile version of the site is easy enough to use and still has all of its features, they do not offer an app, Android of iOS, which nowadays can really set you back.
---
Just Senior Singles Usability
| Overall Rating | |
| --- | --- |
| Login with Facebook | |
| Ease Of Registration | |
| Ease Of Use | |
Registration on dating sites can be tedious. All of that information about yourself to put in can be a burden, but Just Senior Singles AU makes this as easy as possible for you. It's easy and straightforward, not at all time consuming and the site itself is pretty intuitive. The only option you don't have is a Facebook signup, which could save you a bit of time, but still they do well in this category regardless.
---
Just Senior Singles Popularity
| Overall Rating | |
| --- | --- |
| Facebook | |
| Male/Female Ratio | 50/50 |
| Main Age Range | 50-70 |
Just Senior Singles AU is not the top of its game with popularity, as the number of members is lower than on other competitor sites, however, what it does have is good quality profiles and a niche userbase. The average ages are between 50 and 70, with an even split between men and women.
---
Just Senior Singles Support
| Overall Rating | |
| --- | --- |
| Support FAQ | |
| E-mail / Contact Form | |
| Phone | |
| Helpful Articles | |
| Forum | |
Using sites like this can be daunting, especially if something goes wrong. This is why it's so important for the company to have a solid support system to aid you should anything go wrong. Just Seniors Singles offers a few options, but they're not extensive. You do have access to a FAQ section, which can be helpful for those questions you have when first getting started. They also offer an email address or email forum and phone number in case you have more complex issues that need to be handled by a person. Unfortunately, they lack help articles and a user forum, which can sometimes make things a bit easier. Overall though, the support system is relatively solid.
---
Just Senior Singles Terms And Conditions
| Overall Rating | |
| --- | --- |
| Free Offer | |
| Highest Price | 195.00 R |
| Lowest Price | 99.00 R |
| Free Trial Period | |
| Monthly Plan | |
There's nothing worse than joining a site and realizing you've paid too much, or the terms were vague and now you're locked into something you don't want. Just Senior Singles AU is not like this at all. The price level of the subscription is decent and the cancellation terms are fully transparent. You also have a monthly cancellation option, so you won't find yourself paying for months you're not using the service. If you only want to try it first, they even offer a free, three month trial period.
---
Just Senior Singles Summary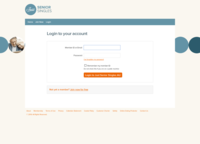 Just Senior Single AU is an easy to use site with a solid support system on the technical side. It may not have the highest number of users, but it caters to a niche that many sites don't. It's great how you have the option of a free trial, because taking the step towards online dating can be a daunting one. So, it's great to have the option of trying it before you commit. Overall, Just Seniors Singles AU is a great option for an older generation who just want to have fun and potentially meet a life partner.